I've been very busy with life and work in general and I haven't blogged for a few months now. I finally get the chance to talk about something I worked on in my spare time.
I use Cryptkeeper to decrypt and mount some encrypted directories that I have in my Ubuntu One space but I noticed that its applet didn't make use of Ubuntu's Appindicators. Since the whitelist for old style applets had been removed in Raring, I was left with no way to use Cryptkeeper. For this reason I rolled up my sleeves and I worked on a patch to (optionally) enable support for Appindicators in the program.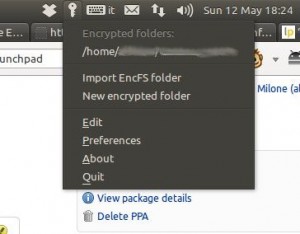 The main problem I had to face is the fact that Appindicators don't support right click gestures, so I had to create an entry in the indicator (labelled "Edit") to allow users to get information, change passwords or delete encrypted directories. Clicking on that entry pops up a dialog which then hooks into the old dialogs to perform the said operations.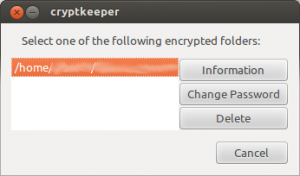 I uploaded my work in Saucy and made packages for Precise and Raring available in my PPA.
I hope you enjoy my work!